Ovarian Cancer Treatment
Treatment of ovarian cancer usually involves a combination of surgery and chemotherapy. Other treatments may be used in certain situations.
Surgery
Operations to remove ovarian cancer include:
Surgery to remove one ovary. For early-stage cancer that hasn't spread beyond one ovary, surgery may involve removing the affected ovary and its fallopian tube. This procedure may preserve your ability to have children.
Surgery to remove both ovaries.If cancer is present in both your ovaries, but there are no signs of additional cancer, your surgeon may remove both ovaries and both fallopian tubes. This procedure leaves your uterus intact, so you may still be able to become pregnant using your own frozen embryos or eggs or with eggs from a donor.
Surgery to remove both ovaries and the uterus. If your cancer is more extensive or if you don't wish to preserve your ability to have children, your surgeon will remove the ovaries, the fallopian tubes, the uterus, nearby lymph nodes and a fold of fatty abdominal tissue (omentum).
Surgery for advanced cancer.If your cancer is advanced, your doctor may recommend surgery to remove as much of the cancer as possible. Sometimes chemotherapy is given before or after surgery in this situation.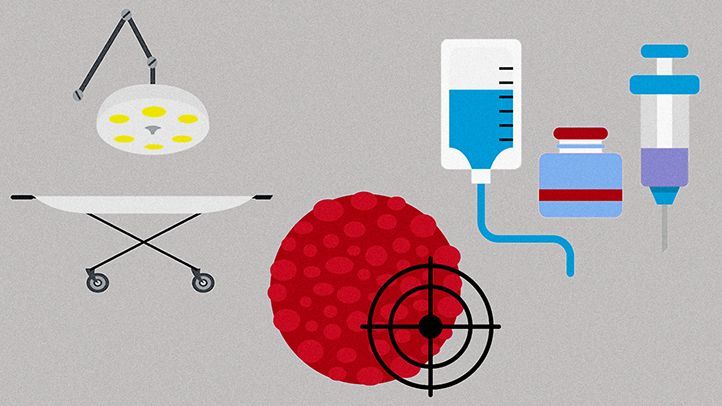 Chemotherapy
Chemotherapy is a drug treatment that uses chemicals to kill fast-growing cells in the body, including cancer cells. Chemotherapy drugs can be injected into a vein or taken by mouth.
Chemotherapy is often used after surgery to kill any cancer cells that might remain. It can also be used before surgery.
In certain situations, chemotherapy drugs may be heated and infused into the abdomen during surgery (hyperthermic intraperitoneal chemotherapy). The drugs are left in place for a certain amount of time before they're drained. Then the operation is completed.