What is IVF?
In vitro fertilization (IVF) helps with fertilization, embryo development, and implantation, so you can get pregnant.
During IVF, mature eggs are collected (retrieved) from ovaries and fertilized by sperm in a lab. Then the fertilized egg (embryo) or eggs (embryos) are transferred to a uterus. One full cycle of IVF takes about three weeks. Sometimes these steps are split into different parts and the process can take longer.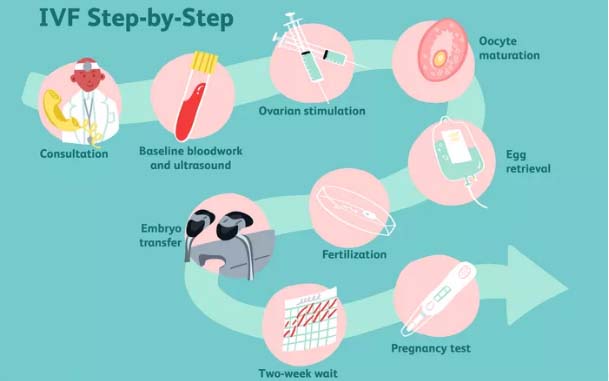 Why it's done
In vitro fertilization (IVF) is a treatment for infertility or genetic problems. If IVF is performed to treat infertility, you and your partner might be able to try less-invasive treatment options before attempting IVF, including fertility drugs to increase production of eggs or intrauterine insemination — a procedure in which sperm are placed directly in your uterus near the time of ovulation.
Fallopian tube damage or blockage. Fallopian tube damage or blockage makes it difficult for an egg to be fertilized or for an embryo to travel to the uterus.
Ovulation disorders. If ovulation is infrequent or absent, fewer eggs are available for fertilization.
Endometriosis. Endometriosis occurs when the uterine tissue implants and grows outside of the uterus — often affecting the function of the ovaries, uterus and fallopian tubes.
A genetic disorder. If you or your partner is at risk of passing on a genetic disorder to your child, you may be candidates for preimplantation genetic testing — a procedure that involves IVF. After the eggs are harvested and fertilized, they're screened for certain genetic problems, although not all genetic problems can be found. Embryos that don't contain identified problems can be transferred to the uterus.
What are the side effects of IVF?
Like all medications and medical procedures, IVF has some risks and possible side effects. These include:
bloating
cramping
breast tenderness
mood swings
headaches
bruising from shots
allergic reaction to medicines
bleeding