Fistula
Anal fistula or fistula-in-anno is a common anorectal problem in which abnormal relationships develop between the inner surface of the rectal canal and the skin around the anus of the anus causing severe pain and infection. The anal gland (rectal opening and closing muscle) between the two layers of the anal sphincter and the rectum canal are the places where the anus lives. Blocking the sky of these glands, secretes the inside and creates a gland that can eventually direct the surface of the skin. The magazine produced by this process is Fistula.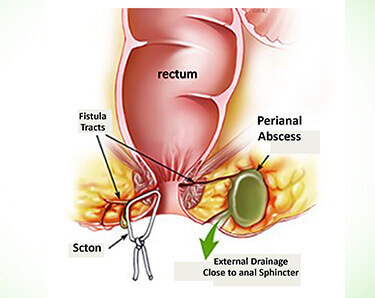 Signs and Symptoms
Symptoms of anal fistula are:
The pain
Bloody or purulent discharge
Itching
Systemic symptoms of throat infection
Causes of the Anal Fistula
An anal fistula is most commonly caused by an anal abscess. It can also be caused by conditions affecting the intestines (part of your digestive system). This is more common in people with immune deficiencies such as HIV and AIDS. Other reasons are:
Growth of ulcers
A surgical complication
Health problems from birth
Rectum cancer
Tuberculosis
Syphilis
Treatment
Surgery is one of the best and best ways to treat anal fistula. An invasive fistula treatment technique is one of the most successful treatment options for minimally invasive fistulas.
In this technique, the fistula path is first examined by an endoscope to determine the opening point of the fistula. Then the internal opening of the fistula closes with the help of a stellar, and electrocautery directly from the lens of the telescope destroys the entire path of the fistula.
No surgery is required in the perineal area so no dressing is required. The risk of stool anomalies is negligible as there is no damage to the sphincter. The procedure is performed under anesthesia / general anesthesia of the back. There is minimal discomfort following the operative post, which reduces recovery time.