Overview
A colonoscopy is an exam used to detect changes or abnormalities in the large intestine (colon) and rectum.
During a colonoscopy, a long, flexible tube (colonoscope) is inserted into the rectum. A tiny video camera at the tip of the tube allows the doctor to view the inside of the entire colon.
The colonoscope is a four-foot-long, flexible tube about the thickness of a finger with a camera and a source of light at its tip.
If necessary, polyps or other types of abnormal tissue can be removed through the scope during a colonoscopy. Tissue samples (biopsies) can be taken during a colonoscopy as well.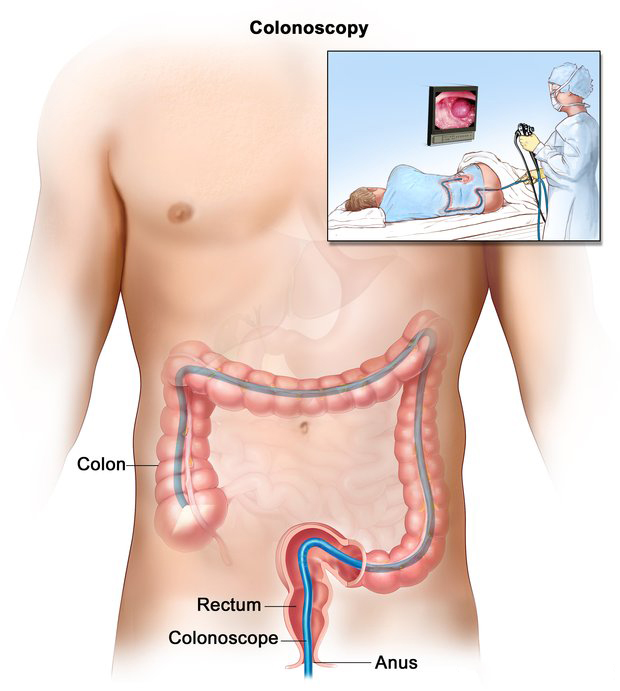 Why it's done
The Doctor may recommend a colonoscopy to:
Investigate intestinal signs and symptoms. A colonoscopy can help your doctor explore possible causes of abdominal pain, rectal bleeding, chronic constipation, chronic diarrhea and other intestinal problems.
Screen for colon cancer. If you're age 50 or older and at average risk of colon cancer — you have no colon cancer risk factors other than age — your doctor may recommend a colonoscopy every 10 years or sometimes sooner to screen for colon cancer. Colonoscopy is one option for colon cancer screening. Talk with your doctor about your options.
What are the possible risks, complications, or alternatives to a colonoscopy?
Complications of colonoscopy are rare and usually minor when performed by physicians who have been specially trained and are experienced in colonoscopy.
Bleeding may occur at the site of biopsy or removal of polyps, but the bleeding usually is minor and self-limited or can be controlled through the colonoscope. It is quite unusual to require transfusions or surgery for post-colonoscopic bleeding. An even less common complication is a perforation or a tear through the colonic wall, but even these perforations may not require surgery.
Other potential complications are reactions to the sedatives used, localized irritation to the vein where medications were injected (leaving a tender lump lasting a day or two), or complications from existing heart or lung disease.